Posted by Kirsten on 26th Feb 2021
How to place an order
We realize that when first visiting our site, all the options can be a little overwhelming. You know what fragrances you want, but don't exactly know where to go from there. This post will help provide some clarity on how to get started and place an order. This post contains photos from our old website look but everything is still in the same location.
Step 1: Look at your budget
We have such a wide variety of sizes to choose from to fit almost any budget. Ranging in price from 0.79 cents to $29.95 for one bottle. If you're working with a small budget, it's good to try out a few bottles of a small size. This way you can try out many scents without spending a lot.
Step 2: Choose a Product
Next we'll break down some of our main products. Decide whether you want Body Oil, Massage Oil, Burning Oil, Lotion, Solid Perfume or a Spray. There is a column down the left side of the page with various categories. Click on one to open that category (most have a few sizes for each). In the example screen shots below, I will be selecting Fragrance Oil Sprays just for an example.
Body Oil (Body Oils & Perfume Oils *Prefilled*, Body Oils & Perfume Oils - Bulk Sizes): Our classic Body Oil which is manufactured to the highest strength that can be worn on the skin.
Solid Perfume & Cologne: A moisturizing beeswax base scented with Body Oil.
Sprays: We carry SIX formulations
1. Fragrance Oil Spray: Concentrated spray that contains an Aloe, Vitamin E and Silk base.
2. Super Cologne Spray: Concentrated spray that contains an Alcohol base (can ONLY ship UPS Ground).
3. Body Spray: Same base as the Fragrance Oil Spray, just slightly less concentrated.
4. Air Freshener Spray: Same base as the Fragrance Oil Spray, just slightly less concentrated.
5. Maxaroma Spray: Super concentrated, cannot be worn on the skin.
Lotion/After Shave Balm: Creamy Lotion lightly scented with Body Oil. We also have unscented lotion available as well
Massage Oil: A lightly scented product designed for massage purposes. It is not meant for wearing as a perfume.
Burning Oil: Our Body Oils can be used in an oil burner, however they are not specifically designed for this purpose. Our Maxaroma Air Freshening line is an oil specifically designed for burning and cannot be worn on the skin.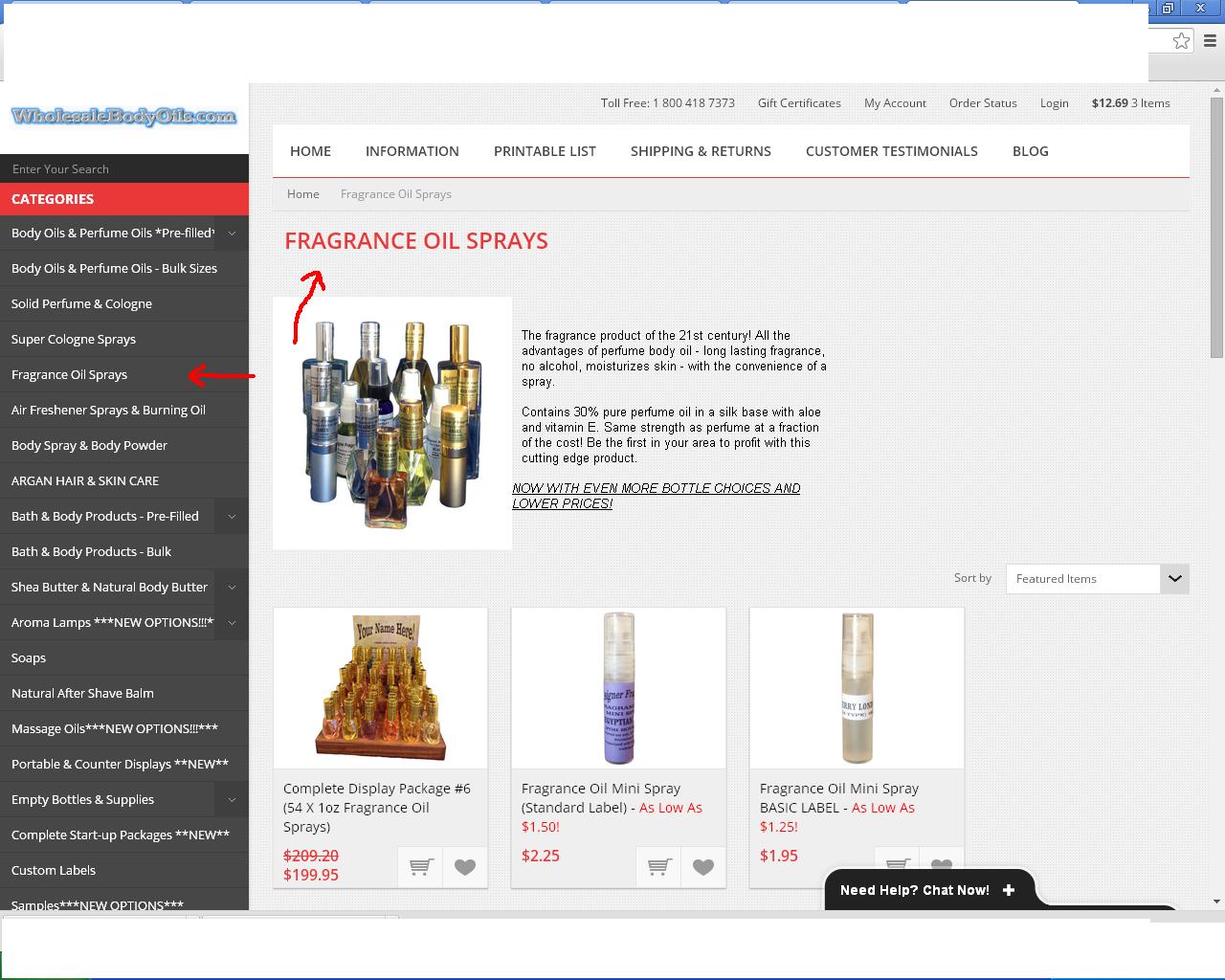 Step 3: Choose a Size
Now that you've decided on the product you are ordering you just need to decide how much of it you want! This really comes down to budget, personal preference and customer requests. When you click on the product from the left side bar (categories), it will bring you to a page with all the different sizes we offer for that product. Make sure to scroll all the way down to the bottom as there are often many sizes. Choose the size you want and click on it! For our screen shots, I will be choosing the Fragrance Oil Spray 1oz Round.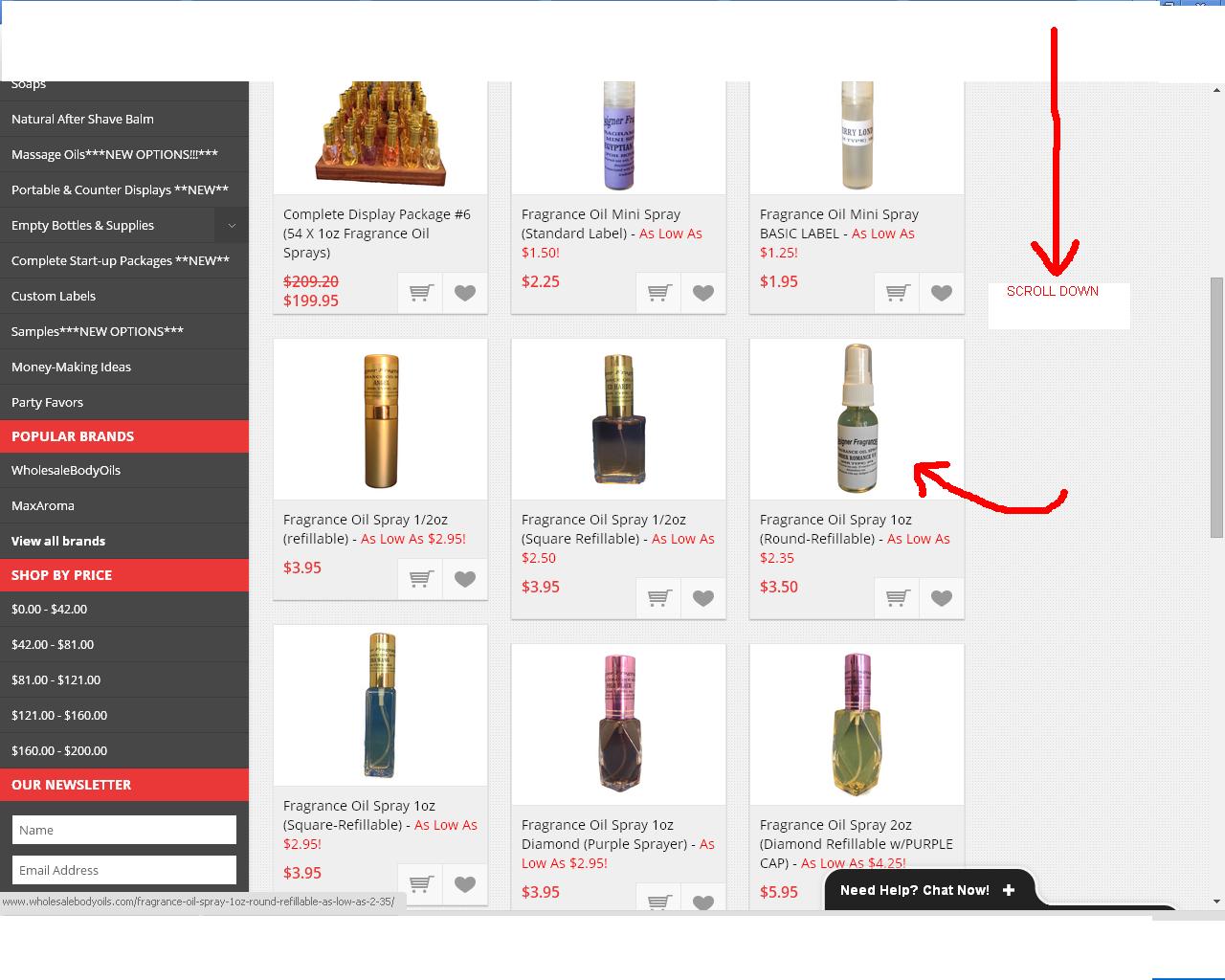 Step 4: Select Fragrances
Almost on the home stretch now. The first thing you will see on this page is a picture of the product you are ordering. Next to that there is a "Select Fragrances" drop down box. You cannot proceed without selecting a fragrance. Click the arrow on the right side of the box and either scroll down through the list or hit the first letter of the fragrance you want on your keyboard and scroll to it. For example, if you are looking for "Romance", hit "R" on your keyboard repeatedly until you see it or hit "R" and then scroll through the fragrances beginning with "R" for it. Click the "Add to Cart" button. If your order is complete, proceed to check out.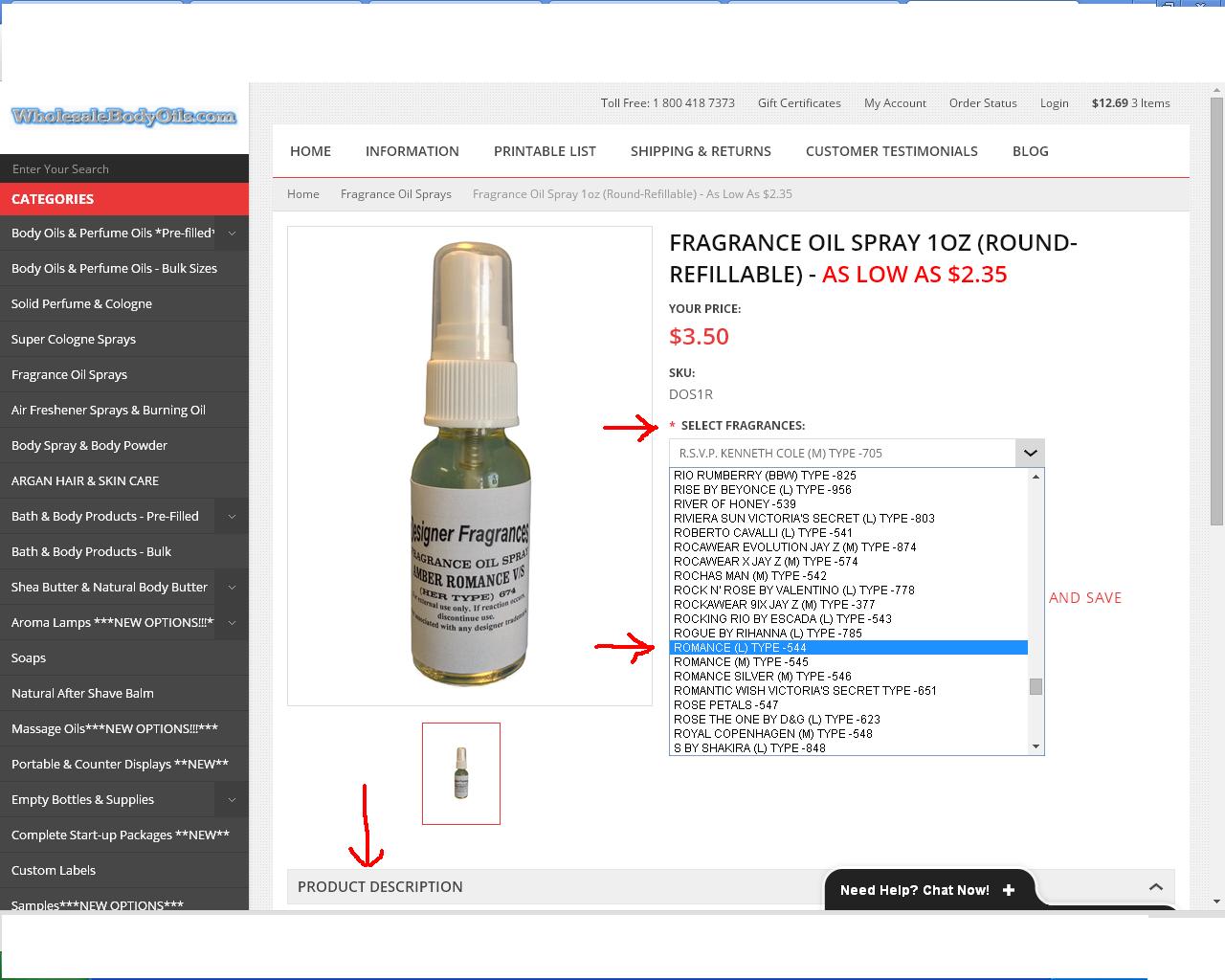 Step 5: Rinse and Repeat!
Click "Continue Shopping" and you will be on the same page you just were viewing the product. Repeat the process from Step 4 to continue adding all the fragrances you need. If you want a different size or product, simply repeat Step 2 and 3. Pro Tip: To save time, select the very last option in the drop down list "Numbers Typed In Comments Box" and change the quantity to the total number of bottles you are getting. There will be a big empty space during check out (Order Instructions/Comments (Optional)) for you to type in the fragrance numbers you need. Each fragrance has a unique 3 digit number, take note of the corresponding numbers to save time and typing!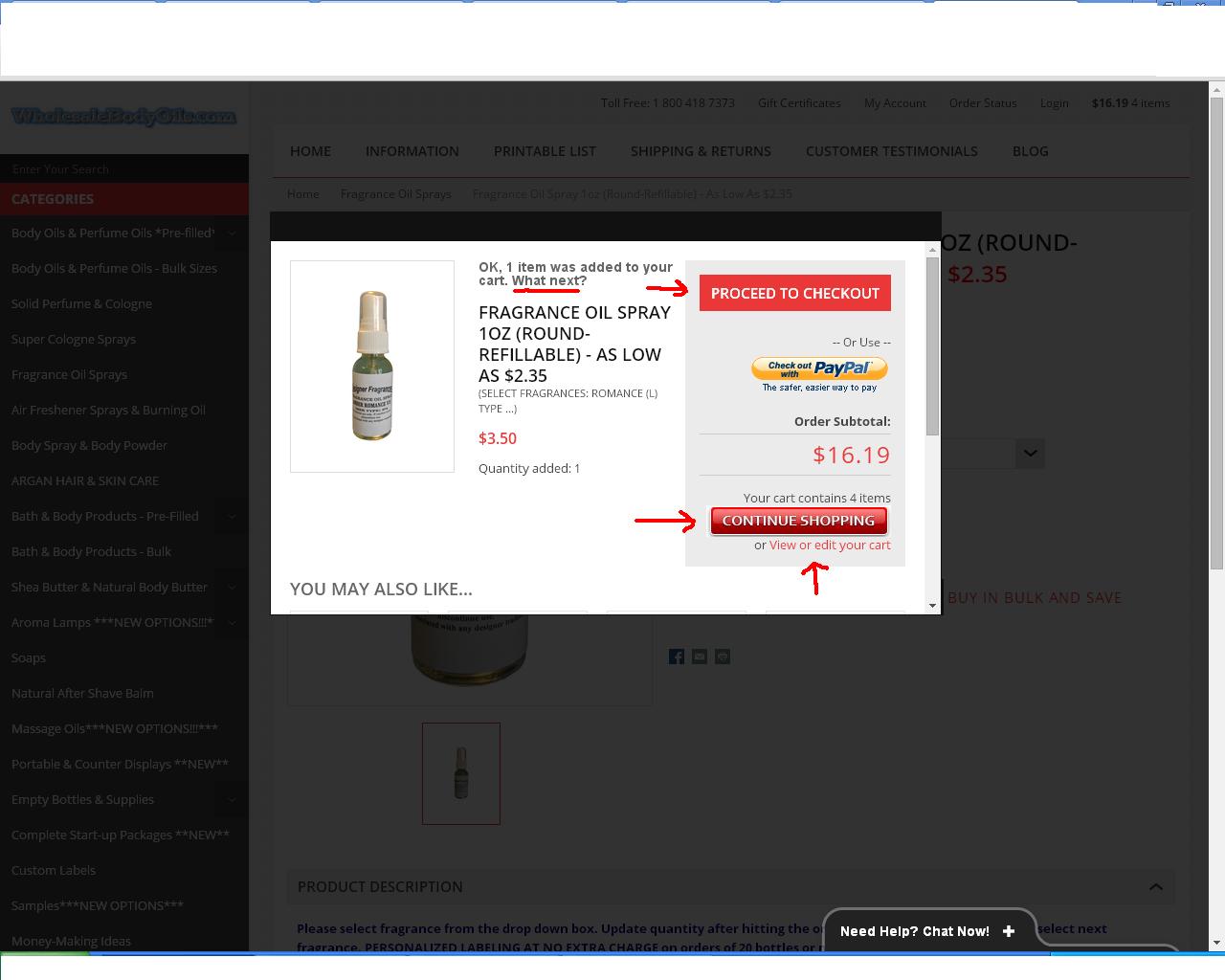 Step 6: Check Out
Most of this will be pretty self explanatory and will vary depending on the payment method you are using. It is important that you read everything coming up on the screen. If there is something wrong with your address or payment, you will not be able to proceed to the next page. An error message will usually pop up on top of the page to let you know. The first page you will see (Step 1 in checkout "Account Details") will be asking you to either register an account, check out as a guest or log in to your existing account. Choose the one that fits you best and click "Continue". Registering simply saves your address for quicker check out next time, gives you more access to tracking your order and gives you access to an exclusive email/message feature.
The next page (Step 2 of check out "Billing Details") will be asking you for your billing address. If you are billing and shipping to the same address, make sure the box is checked and click "Bill and Ship to This Address". If you are not, uncheck the box and click "Bill to This Address". You will be asked for the shipping address on the next page.
If you are billing and shipping to the same address, the cart skips Step 3: Shipping Details and brings you straight to Step 4: Shipping Method where you choose the shipping method you want. Click the button for the service you want and click "Continue".
Now Step 5: Order Confirmation. This page shows you a copy of your order so you can make sure it is all correct. Keep scrolling down to get to the payment information ("How would you like to pay?") and select the button for the payment method you are using (if using PayPal, this will all be different). Under this will be "Order Instructions/Comments (Optional)". This is where you would put your fragrance numbers if you used the "Pro Tip" and also where you would put any label information.
If you are using a Credit Card, click "Proceed to Payment" to enter the information on Step 6: Payment Details.Click "Pay for Order" to submit the order. If using any other payment method listed, you will click "Continue" and your order will be submitted. There will be instructions at the top of the page with your order number on how to pay.
At any time during this check out process, you can click "Modify" next to one of the steps at the top of the page to view or edit your information.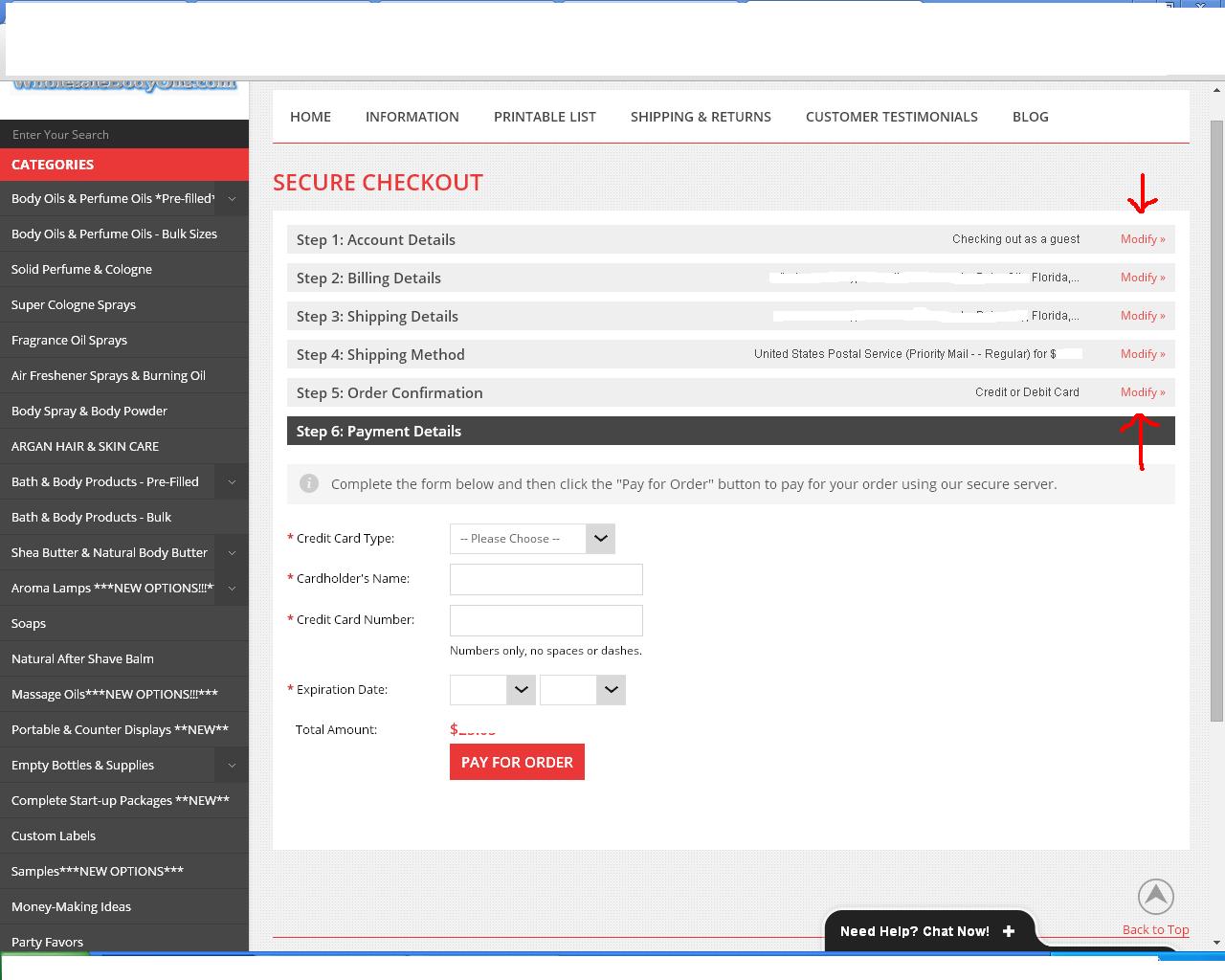 Still have Questions?
We have a live chat feature on the website that receives messages even if we are not online. You can also send us an email to sales@wholesalebodyoils.com. You will receive a response within 24 business hours. When we are live on chat, you'll receive a response within a minute. Our phone lines are operational from Monday to Friday 8am to 4pm Eastern Time.